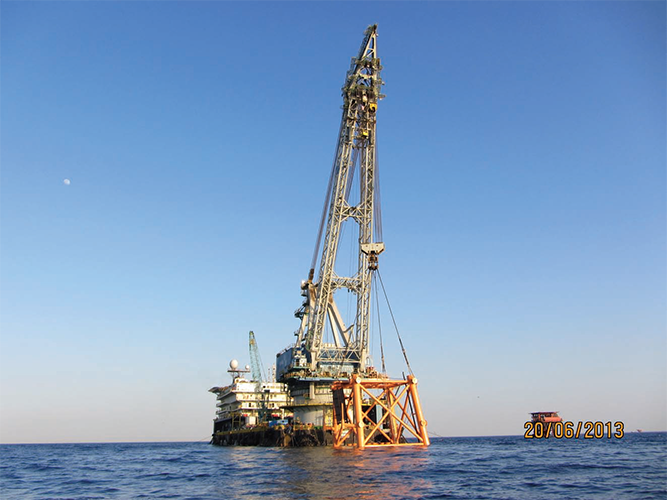 Building on excellence
Privately owned offshore construction company Valentine Maritime (VM) was established in 1990 to deliver services to the offshore oil and gas industry in the Arabian Gulf region and the Indian subcontinent.
Since its inception the firm has evolved with the changing needs of the offshore construction market, thus ensuring it continuously fulfills customer demand in areas such as India, the East coast of Africa, the Mediterranean and the Black Sea.
Primarily specialising in EPC offshore construction of wellhead platforms, submarine pipelines, topsides, maintenance and hook-up services, VM has emerged as a respected EPC offshore contractor in the region; the company has successfully executed EPC projects worth more than $1 billion over the last five years, working for major clients such as ONGC in India and Saudi ARAMCO. Keen to continue strengthening its service offering, VM anticipates the launch of a new yard in the third quarter of 2013 will significantly enhance its ability to fabricate offshore jackets, modules and topsides for the oil and gas market in the future.
In addition, VM has provided chartering services for more than 20 years, acquiring its first major marine asset, the Regina 250 Derrick Lay Barge, in June 1992. By 2012, the company had acquired a large fleet of 13 construction vessels and increased its level of specialised, highly skilled personnel in line with robust growth and the substantial rise of assets and revenues. VM currently owns and operates two work barges, four cargo barges, three tugboats and four pipelay barges. The most recent addition to the fleet is a DLB pipelay barge, which boasts a 1600 tonne revolving crane onboard that has enabled the company to lay larger pipelines in deeper waters and develop a presence in the heavy-lift market. As a part of VM's future development plans, the DLB-1600 crane capacity will be upgraded to 2200 MT and the barge shall be equipped with a dynamic positioning system, which will allow laying subsea pipelines and installing platforms in congested oil and gas fields.
The DLB-1600 proved its capabilities in 2013 by successfully completing the Hilal-B jacket and deck offshore installation project for Gulf of Suez Petroleum Company (GUPCO). In early 2013 GUPCO awarded VM the contract for the development project involving the construction, engineering and installation of a four legged 780 tonne jacket, four long piles of 1312 total tonnes, a pile cut off and transition piece, boat landing, six barge bumpers and ancillaries and a topside deck of 440 tonnes at a water depth of 78 metres.
Due to VM's ongoing efforts to add more vessels to its fleet and strengthen its business operations, the dynamic firm has extensively expanded its services in the offshore construction sector. The scope of services includes: EPC offshore construction, single buoy mooring fabrication and installation, the installation and modification of jacket, topsides and decks; subsea survey and installation, cable laying, salvage and pipe-laying.
Fully prepared to carry out major offshore projects through a combination of a strong team of expert professionals, state-of-the-art equipment, targeted facilities and compliance to a strict code of conduct that ensures a superior level of safety for all personnel, VM lives up to its reputation as one of the leading regional offshore construction contractors.
No stranger to challenges, VM was recently involved in the installation of the longest HDPE liner for Occidental Petroleum Qatar. The high density polyethylene pipe, at a length of 2.5 kilometres x 590 millimetre diameter x 15 millimetre wall thickness was pulled through a 2.5 kilometre long, 24 inch diameter subsea steel pipeline in one single segment. The successful shore to offshore subsea installation was operated in 20 metre water depths and provided a major cost saving to the operator as the utilisation of Inconel, an expensive, exotic material, was avoided for the overlay/lining of the CS pipeline. Completed in the summer of 2013, this project was unique and significant being the longest and biggest outside diameter HDPE pipeline pulled in a single string for offshore facility.
Committed to executing awarded projects with maximum efficiency, VM has experienced a steady growth over the last 20 years. The company is maintaining its plans to achieve further growth in the future. These ambitious plans have been strengthened through an award of a 525 million AED ($143 million) contract from Petrofac International for ADMA-OPCO's Satah Al Razboot (SARB) package field offshore development in Abu Dhabi. The project involves laying 190 kilometres of submarine pipelines in diameters from 12-48 inches, the installation of a single point mooring system in the northeast of Zurku Island as well as offshore structures such as three flare platforms, four bridges, two riser platforms and lay subsea cables. This major project is due for completion in April 2016.
With an established history of successfully executed projects, the future looks bright for the ISO 9001: 2008, OHSAS 18001:2007 accredited firm as it continues its commitment to meet and exceed the requirements of its clients, to improve the competences of its employees through skills development, open dialogue between personnel to encourage the exchange of expertise and also a strong team spirit. By retaining its core values throughout its ongoing growth, the company is sure to have incredible future success in the pipeline.
Valentine Maritime Gulf
Services: Offshore EPC construction