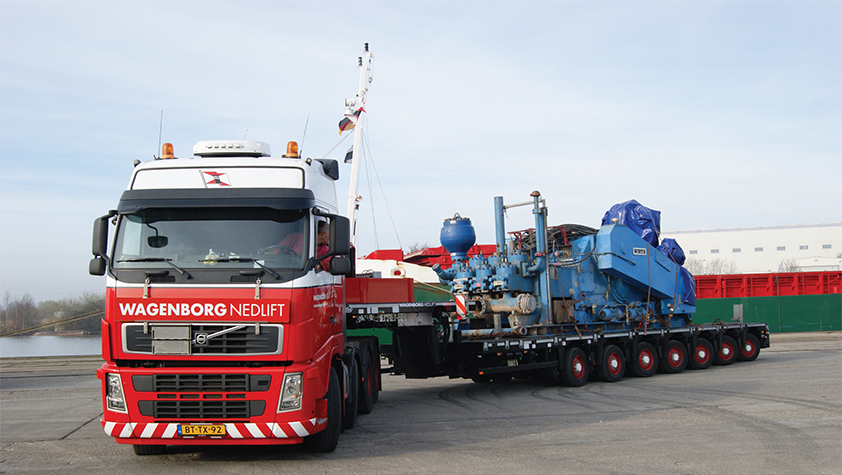 Royal approval
Wagenborg Nedlift provides transport and lifting solutions for heavy machinery and oversized equipment.
As part of the Royal Wagenborg group it has a history in the oil and gas industry spanning five decades, beginning when major natural gas and oil reserves were discovered in the Netherlands. A supply chain industry very quickly grew up around these discoveries with Royal Wagenborg being one of the sector's most prominent names. Today the group is divided into several companies, each with its own speciality, and Wagenborg Nedlift delivers heavy transport and lifting solutions.
Though it works with clients outside the sector, oil and gas companies have been core to Wagenborg Nedlift's business since it began. One of its longest running clients, representing a significant portion of the company's activity, is NAM – a Dutch oil company part-owned by Shell. NAM is responsible for the onshore oil and gas drilling operations within the Netherlands, and Wagenborg Nedlift takes care of its logistics and hoisting requirements resulting from maintenance and shutdown procedures. The partnership between the two has lasted decades. Apart from NAM, Wagenborg Nedlift works with many other clients throughout Europe, particularly in the area of rig relocations.
"Drilling rig moves are a huge logistical operation because once it is switched off, and throughout being relocated, all time is only lost time," states marketing manager Connie Lindhoud. "Because it is not earning any money during shutdown, the challenge is to have as short a time as possible from disassembly, through relocation, to reassembly at the new location. Investments into our company have mainly been directed at improving the efficiency with which we can transport the equipment from site to site. We also work together with our sister company Wagenborg Foxdrill, a rig assembly and disassembly specialist, to provide a full logistics concept. Today we can provide a very efficient programme that requires very little input from the client."
One notable example of Wagenborg Nedlift's capabilities is the moving of an onshore drilling rig named T46 from Schneeren in Germany to Shpiragu, Albania. The contract was awarded in February 2012 and work began at the end of March. Wagenborg Foxdrill took the T46 platform apart and Wagenborg Nedlift handled overland transportation to the port of Papenburg in northern Germany. This part of the journey was standard procedure for a Wagenborg Nedlift project but the next stage – shipment from Germany to Albania – required additional expertise in seagoing transport, agencies, customs clearance, and other specialities. This is where sister companies Wagenborg Shipping and Wagenborg Projects & Logistics stepped in.
Royal Wagenborg's MV Metsäborg was chosen to undertake the two-week journey from Germany to the Albanian port of Durres. Despite growing concerns as the loading operation was planned that T46 would not fit in the 604 TEUs cargo holds, the group's project managers utilised every last centimetre of the vessel to complete the relocation in a single shipment and thereby prove the efficiency of Royal Wagenborg's complete solutions package. Once MV Metsäborg arrived in Albania, Wagenborg Nedlift faced a unique challenge in getting the rig 100 kilometres from Durres to Shpiragu.
Unable to use its own state-of-the-art cranes and hoists, Wagenborg Nedlift hired the services of a local transport company that had only, for example, one trailer suitable to carry the four generators, one SCR, and one MCS that belonged to the T46. It meant six individual trips were required, equivalent to six days of transport for those components alone. Furthermore, a roadway had to be specially constructed through the Albanian hills in order to get the parts from the main highway to the reassembly site. Despite these many challenges, Wagenborg Nedlift ensured transportation went to schedule and enabled its Wagenborg Foxdrill colleagues to complete reassembly by the beginning of July.
"Our work in Albania is an example of the direction that Wagenborg Nedlift as a company and Royal Wagenborg as a group is heading in," Connie says. "This is the way that we can distinguish ourselves. When it comes to combined services including sea and river transport, overland transit, and assembly and disassembly, Royal Wagenborg can make a difference to the customer. We can provide just one point of contact for the complete logistics chain, which is quite an advantage for the customer because it reduces confusion and improves efficiency."
Despite the recession and its impact throughout Europe, the last few years have seen Wagenborg Nedlift investing heavily into its equipment to ensure its portfolio remains as modern and reliable as possible. "A lot of money has been placed into new trailer equipment, which is more convenient for oil and gas shipments and for project cargoes transported by the oil and gas sector," elaborates the marketing manager. "Despite the crisis we are keeping up with these investments, replacing our old equipment with new, because it is important for sustainability and a better future. One area we are now looking at is LPG. We have carried out trials on a truck that uses both diesel and LPG (diesel at full load, added LPG at partial load) and are impressed by its performance. Remaining at the front of such innovations is important to us. Many companies spend just enough to survive but we think that is not enough to be ready for the future so we keep investing in new equipment and the certifications needed for the oil and gas and petrochemical industries."
As the oil and gas market continues to boom throughout Europe, the possibilities for Wagenborg Nedlift's future are growing by the day. It already has a notable market share of the logistics supply chain but by consolidating solutions alongside its sister companies, the potential for securing even more complex tasks will be improved. Connie shares her outlook on the future: "You can see that the oil and gas market continues to develop, with investments throughout Europe. Some parts are now even funding new facilities. With the position we already hold in the Netherlands and in Europe, we are hoping to gain new clients and business in this regenerating industry."
Wagenborg Nedlift
Services: Project cargo logistic solutions